Material Handling Automation
Complex and custom material handling automation solutions that drive client success
At EPCM, we have over 40 years of experience delivering unique and innovative robotic material handling equipment to heavy manufacturing clients worldwide.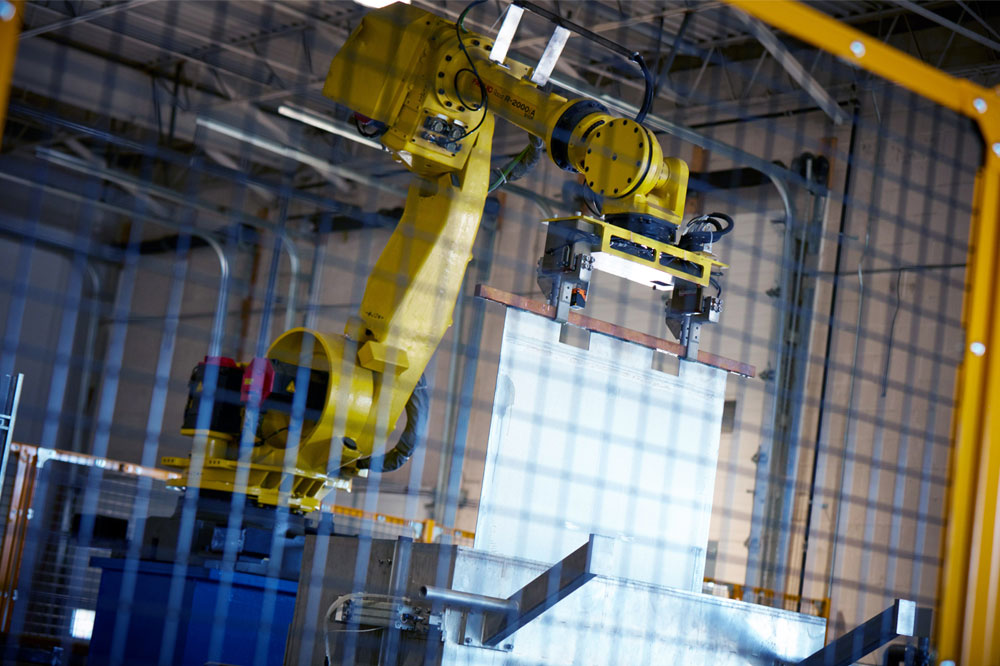 Let EPCM automate your dull, dirty and dangerous tasks and watch your profitability grow
We excel at streamlining our clients' manufacturing processes by automating tedious and low-value manual tasks. This will help you free up labour to work on cleaner, safer and more valuable activities. You'll reap the benefits of lower operating costs, reduced complexity, higher quality and increased throughput. Contact us to discuss your automation or outsourcing needs.
Heavy and fast turnkey solutions customized to client needs
Unlike other automation providers, EPCM doesn't stop at solving only what's visible. We dig deeper. We have a track record for quickly recognizing and solving problems clients aren't aware of – consistently accelerating their productivity, safety, and cost gains.
EPCM specializes in complex material handling automation and environments where heavy products move rapidly through the manufacturing and assembly processes. Our diverse automation solutions include:
Materials Transport Automation
Belt & roller conveyors
Bulk & loose material handling conveyors
Power & free overhead conveyors
Walking beam handling systems
Pallet & heavy unit load handling conveyor
Linear induction conveyors
Automated turn table & specialty part feed systems
Transfer Car & Rail Guided Vehicle (RGV) systems
Automated Guided Vehicles (AGV) & Autonomous Mobile Robot (AMR) systems
Automated Storage & Retrieval Systems (ASRS)
Robotic Automation
Multi-axis robotic arms
Linear & area gantry robots
Pick & place robots
Collaborative robots
Custom designed end effectors
Packaging Automation
Automated weighing check systems
Stacking & de-stacking automation
Pallet dispensers
Banding & strapping systems
Stretch wrapping systems
Palletizing & stacking systems
Clinching & corrugating presses
Print & apply labelling systems
Process Automation
Multi-stage & high-pressure wash systems
Specialty robotic welding cells
Assembly automation
Robotic polishing & finishing cells
De-palletizing & de-stacking systems
Marking & barcoding systems
AI based quality inspection & classification systems
QA sampling systems
SCADA, digital data mining & IoT system integration
Ask us about our commercial solutions for clients who prefer not to own and operate the equipment.
---
The project was done on time with weekly updates and no safety issues. The project managers were both really good. I felt like I was in good hands.

North American Downstream Oil Processor, Project Engineer
To learn more about our EPCM automated material handling robots and solutions,